Theta Lake
Developed by Theta Lake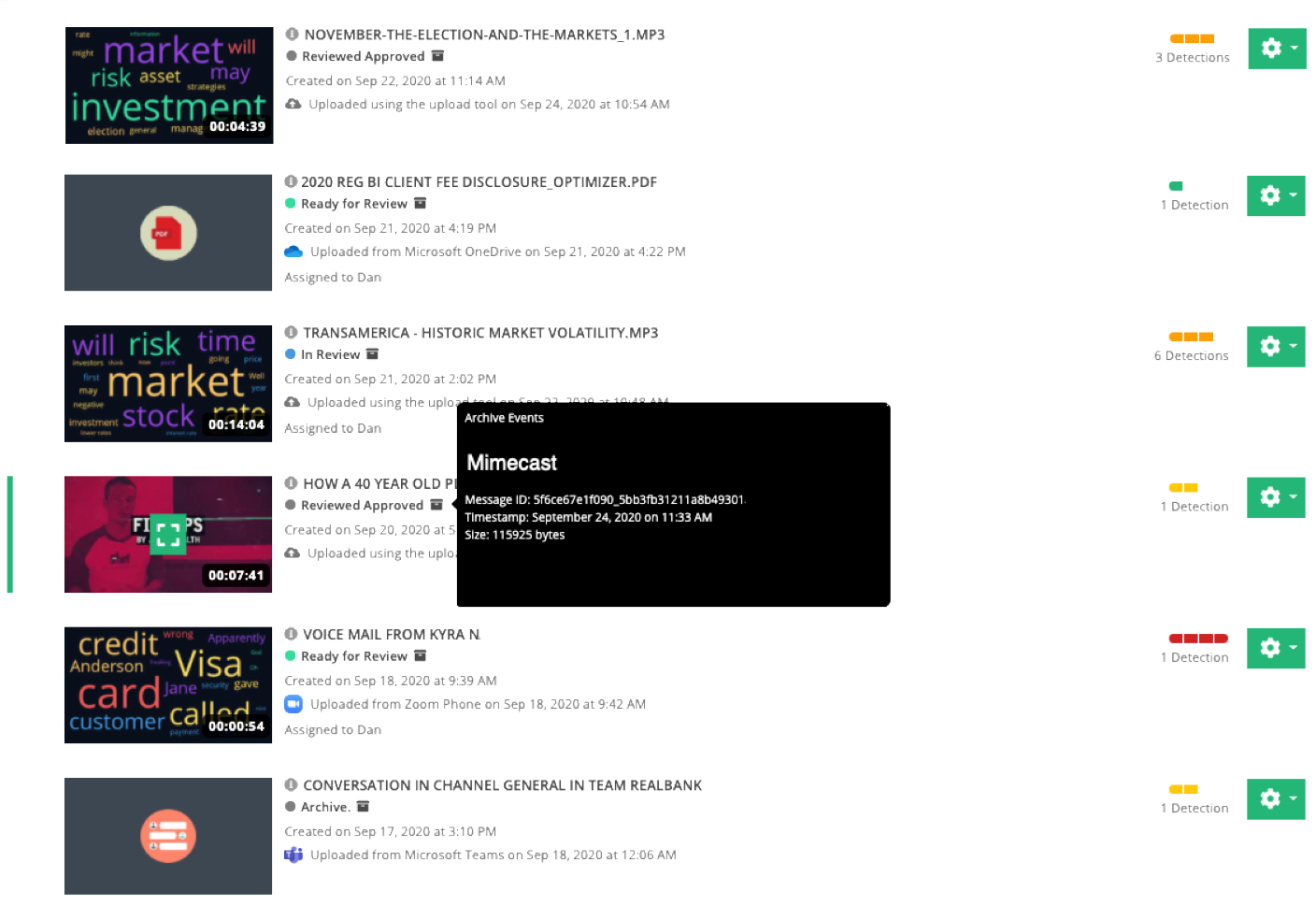 Mimecast and Theta Lake help organizations streamline governance efforts in the Work From Home era with the identification and collection of relevant data including e-mail, instant messages and rich communication types like video, audio and collaboration data with an integrated archive approach. This includes full capture, retention, and automated risk identification for anything shared, shown, spoken or typed in Zoom Phone, Zoom Meetings, Zoom Chat, WebEx Teams, WebEx Meetings, Slack, RingCentral Office, Microsoft Teams (Chat, Calls, and Meetings), BlueJeans, and many more.
Accelerate next generation Information Governance and Content Intelligence with Mimecast and Theta Lake
Integrating archive data into a unified environment can bring significant benefits, including ease and speed of search, simpler compliance and risk reduction, and cost minimization. Combining Theta Lake and Mimecast Cloud Archive delivers a scalable, easy to use solution capable of addressing a wide array of business challenges including e-discovery, compliance supervision, privacy requirements and regulatory compliance.
With the Theta Lake and Mimecast integration, joint customers can capture and archive all Unified Communications (UC), including audio, video, and chat, from Microsoft Teams, Cisco WebEx, RingCentral, Zoom, Slack, and other leading unified communications vendors, enabling firms to maintain a single cloud repository for all communication types with the ability to intelligently, quickly, and at a dramatically lower resource and time cost supervise regulated conversations using a purpose- built platform for newer collaboration and video content.
For rich supervision and review of video, audio, and collaboration chat - links to source media in Theta Lake are available. Theta Lake provides a full-featured, supervision- focused media player, AI-assisted review workspace, timestamp of risk detections, and search across any content - spoken, shown, or shared. Click here to view the integration details.
Key Benefits
Meet financial services regulatory requirements for compliance supervision and other use cases

Faster insights enable a prepared response to governance events like e-discovery, minimizing third party variable costs like document review

Intuitive user interfaces for greater productivity for all stakeholders
Key Capabilities
Today's governance demands require organizations to intelligently capture and manage a variety of content types. Mimecast Cloud Archive combined with Theta Lake provides several features to that end, including:
Quickly find messages – Create saved searches in Mimecast to easily surface important content for review. Search across UC content metadata, along with transcripts, risk scores, types of risks that were automatically identified in content, and more.

Compliance and Risk Management – Analyze all content against regulatory, corporate compliance, acceptable use, security, data leakage, and custom policies. Theta Lake uses AI and ML to detect problematic content across voice, content shared on screen, webcam images, virtual whiteboards, documents, chat messages, and shared media.

Retain and Supervise Unified Communications – Capture, archive, and search across video, audio, chat, and other unified communication content within Mimecast from Microsoft Teams, Cisco WebEx, RingCentral, Zoom, Slack, and more.
Developer
Theta Lake
Contact
Documentation
Release Date
September 2020
Version
1.0