Palo Alto Networks WildFire
Developed by Mimecast
Reduce Risk With Layered Security


---
Key Benefits
Optimized malware detection and prevention of zero day exploits
using both the Mimecast and Wildfire cloud-based analysis and globally crowdsourced intelligence

Richer and more detailed context and intelligence
on detected threats, accessible through both the Mimecast and Wildfire dashboards and reporting tools

Alerts and optional automated mailbox remediation
for message attachments found to contain malware

Detailed reporting
on threats detected, blocked and remediated by both Mimecast and Wildfire
Solution Overview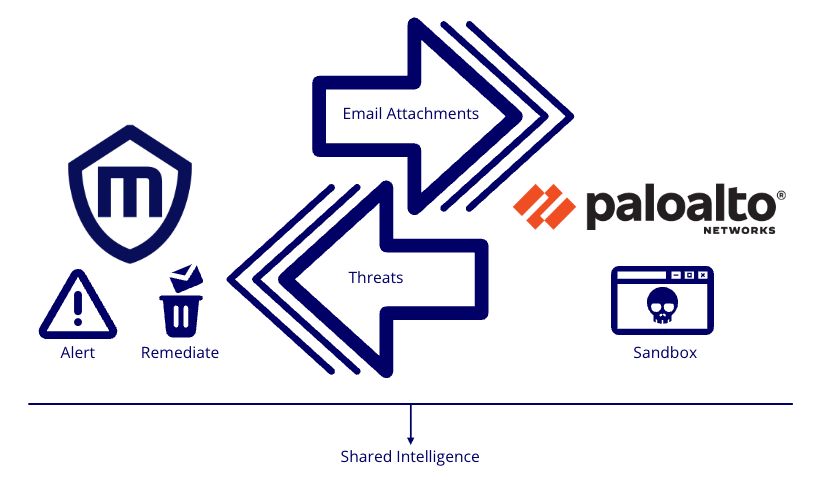 Integration between Mimecast Targeted Threat Protection and Palo Alto Networks WildFire maximizes your security investments through optimized malware detection using the techniques of both technologies, with cloud-based analysis, inline machine learning-based prevention, and globally crowdsourced intelligence to better protect your organization.
As Mimecast receives email attachments, they pass through the Mimecast inspection funnel, where each file is checked against a number of proprietary and commercial antivirus engines. Files not flagged by the antivirus engines are subject to static file analysis and/or traditional sandboxing. Whether a scanned email attachment contains malware or Mimecast's attachment scanners see it as clean, the file is sent to WildFire for a second opinion.
In the event WildFire subsequently detects that a file contains malware, a predefined user or group is alerted to take action. If your organization's Mimecast subscription includes the Threat Remediation feature, you can also trigger an automated mail- box remediation of the email or emails containing the malware attachment, ensuring that the threat is neutralized as soon as possible. The next time the malware is detected via email, it will be automatically blocked, ensuring no further spread of the malware in your organization.
WildFire sandbox analysis is available for all files submitted by Mimecast, whether they are found to be malicious or benign. This analysis is available using the WildFire Reports feature.
Simple, Zero Code Setup
Get setup in minutes with just a WildFIre API key using the Mimecast Administration Console.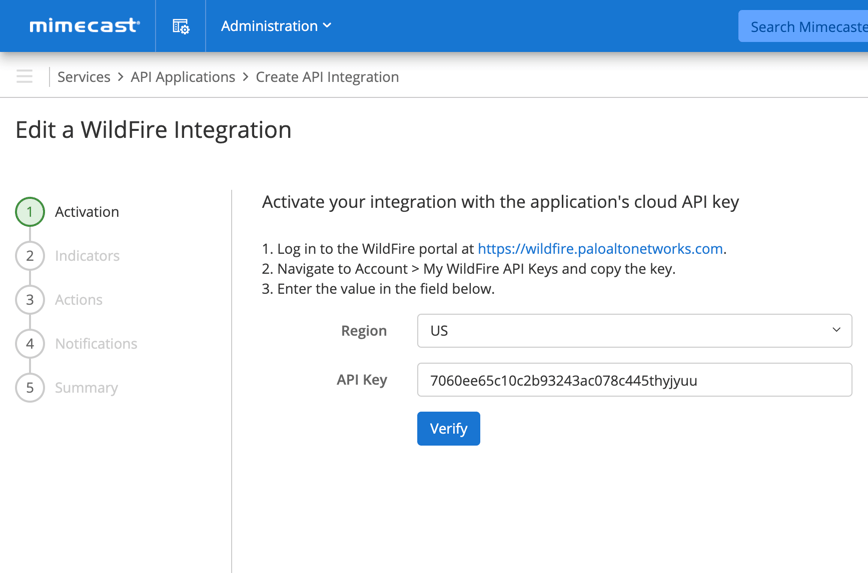 Automate Remediation For Detected Threats
If WildFire detects malware in an email attachment, you can configure the integration to trigger an automated mailbox remediation to neutralize the threat and prevent further spread in your organization.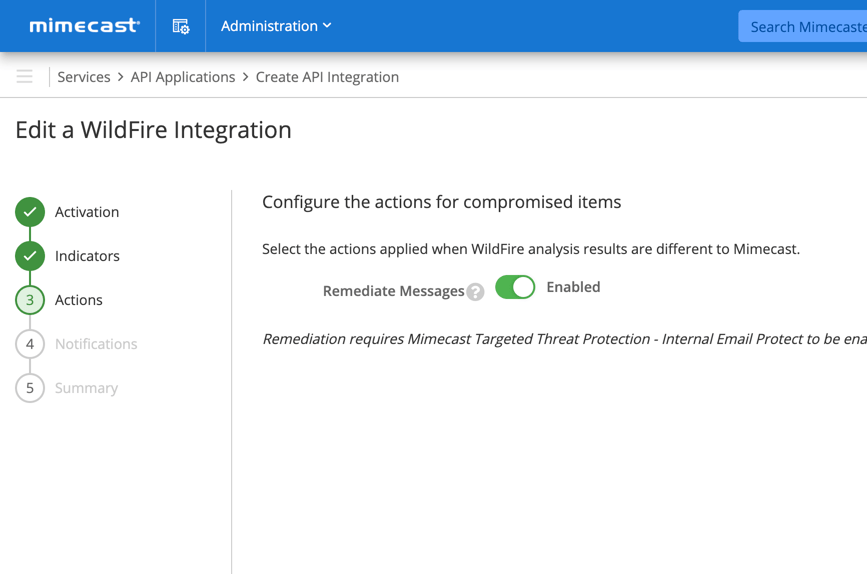 Automate Email Alerts
Define an individual mailbox or a group of users to receive email alerts when WildFire detects malware, providing your security team with the context they need to respond quickly.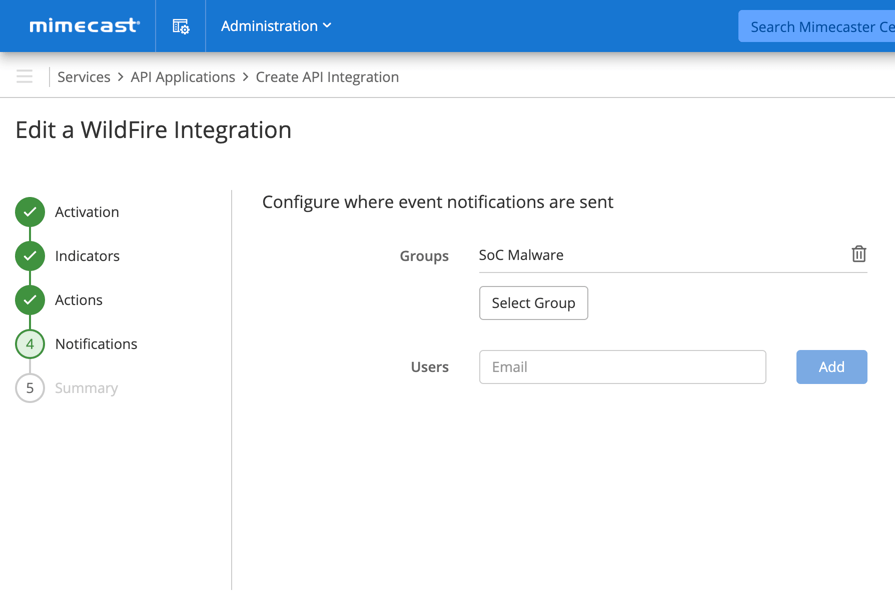 Integrated, Shared Intelligence
View the results of WildFire detected threats in the MImecast Threat Dashboard, including detailed evidence from the WIldFire sandbox.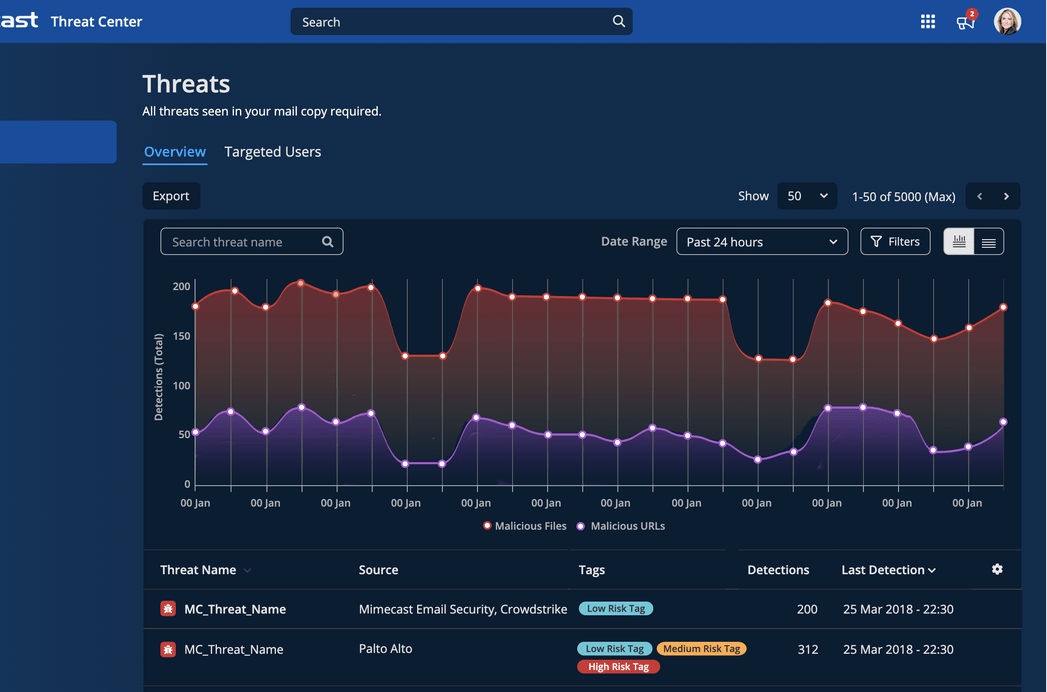 Integrated, Shared Intelligence
Detailed analysis is also available for all files submitted to WildFire using the Reports feature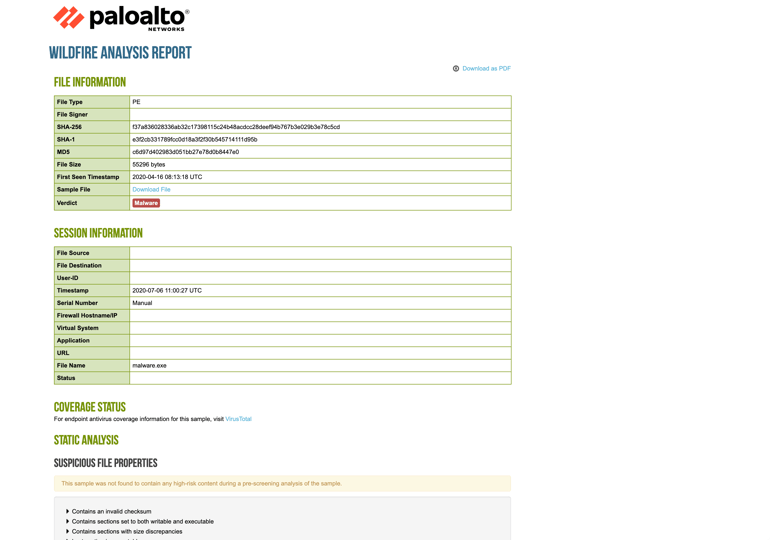 Developer
Mimecast
Contact
Documentation
Release Date
April 2021
Version
1.5
GET STARTED